The VN-Index fell 5.36 points to 1,099.31 at the Ho Chi Minh Stock Exchange on Thursday. Meanwhile, on the northern bourse, the HASTC-Index gained 1.65 points to 357.78.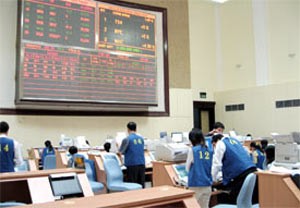 Share prices of seven out of ten big caps drop today
The stock market has such a gloomy day as seven out of ten big caps dropped prices. Vincom (VIC) slid VND5,000, FPT Corporation (FPT) dropped VND6,000 with less buy orders than in the beginning of this month.

In likewise fashion, Vinamilk (VNM) and Vinh Son Hydro (VHS) fell VND3,000 and VND500, Kinh Do Food (KDC) dropped VND7,000, Sudico (SJS) cast off VND5,000 and Hau Giang Pharmacy (DGH) slid VND3,000.

Full Power (FPC) and Southern Seed (SSC) also reversed course to drop limit down at VND66,500 and VND79,000 after enjoying a sharp increase in prices in the previous sessions.

Meanwhile, Sacombank (STB) once again reversed course and gained VND500 to close at VND73,000 with number of sell orders even to the orders to buy.

Before today's session, the newcomer Vitaco (VTO) and the big cap PetroVietnam Tourism and Service (PET) had been expected to drop prices as the number of sellers was more than that of buyers. However, they both surprised investors by rising limit up.

According to many investors, the fact that VTO had doubled its price encouraged investors to sell more than usual.

The VN-Index is slowing down after exceeding the 1,100 level. The stock market is expected to gain more heat as major corporations begin announcing their third-quarter profits.