The stock market closed on Thursday with 83 losers at the Ho Chi Minh Stock Exchange, 25 of which dropped limit down. The VN-Index mirrored the gloomier sentiment by losing 12.61 points to close at 1,088.68.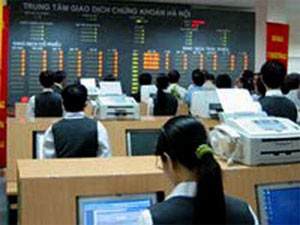 VN-Index fell 12.61 points to 1,088.68

Up north in Hanoi, the HASTC-Index also continued down, shedding 7.75 points to close at 364.85.

Today's session saw a sharp surge in sell orders from the word go and many blue chips and small caps tumbled straight after the opening bell.

Among the bigger stocks, Sacombank (STB) and Vinh Son Hydropower (VSH) fell VND1,500 and Pha Lai Thermal Power (PPC) dropped VND1,000.

In the small cap department, Hang Xanh Auto (HAX), Lam Dong Minerals & Building Materials (LBM), Lu Gia Mechanical Electric (LGC) and National Seed (NSC) dropped limit down after days of solid gains.

Despite the lower prices, the market showed some positive signs as the session drew to a close. Sacombank had some 1.73 million shares traded, or 20 percent more than the previous session.

Not all the big caps fell. For example, Vinamilk (VNM) and Petro Vietnam Drilling and Well Services (PVD) enjoyed a gain of VND1,000 as hundreds of thousands of shares found new owners.

The Asia Commercial Bank (ACB) was another winner, closing out the day at VND166,000.

There's no doubt that the market is slowing down after one month of steady gains. However, with VND1.7 trillion worth of shares changing hands at the southern and northern bourses today, the Vietnamese stock market must still hold some allure.