The VN-Index continued with its southern trek this morning by experiencing a record drop of 8.29 points to close at 492.04 which is the lowest figure in the last one and a half months.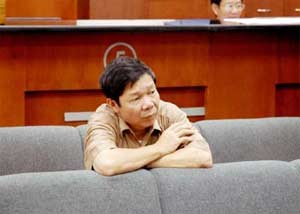 Investors begin to lose faith in the stock market as it has dropped below 500
Blue chips like Sacombank (STB), Phu My Fertilizer and Chemicals (DPM) and Saigon Securities (SSI) also saw millions of shares went begging this morning.

Total number of sell orders overwhelmed the orders to buy, causing many big caps like DPM and Tan Tao Industrial Zone (ITA) dropped limit down.

Today's session ended with only 2.2 million shares finding new owners and 152 losing shares, 150 of which dropped limit down.

The dull performance the stock market has put on for the last few days causes many observers to expect it to drop even further down in the following sessions.

Investors are losing faith in the stock market and halt buying in more stocks. Many of them even choose to stay away from the stock market as none of them want to see more red color on the electronic boards.

Major factors behind the gloomy sentiment of the stock market are believed to be the recent consumer price hike, high rate of inflation and the bustling gold market which has caused many investors to leave the decreasing stock market.

In Ha Noi, the HASTC-Index also shed 2.96 points to end the session at 151.27. Total trading volume reached a mere 558,400 shares worth VND25 billion (US$1.56 million).