The VN-Index, mirroring the gloomy sentiment, lost 28.28 points to close at 1,064.2 on Monday as 84 firms lost at the Ho Chi Minh Stock Exchange. Meanwhile, its trading value has surged thanks to a newly-listed firm.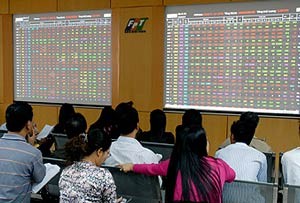 Investors are worried about the fall of big caps in today's session

Up north in Hanoi, the HASTC-Index also shed 6.49 points to 374.96.

Today's session saw a sharp surge in sell orders as many big caps tumbled straight down after the opening bell.

The stock market had a gloomy day when blue chips including Pha Lai Thermal Power (PPC), Vinamilk (VNM), Vinh Son Hydropower (VSH), Schenker-Gemadept Logistics (GMD), and Kinh Do Food (KDC) dropped limit down.

Likewise, Sudico (SJS) dropped VND13,000, Vincom (VIC) VND8,000, Saigon Cables & Telecommunication Materials (SAM) VND7,0000, Petro Vietnam Drilling and Well Services (PVD) VND5,000, and Ree Technology (REE) VND3,000.

However, PetroVietnam Tourism and Service (PET) and many small caps bucked the trend including Hang Xanh Auto (HAX), Sa Giang Import Export (SGC), SMC Investment (SMC), Thanh Cong Textile Garment (TCM), Vien Lien (UNI), Vietnam - Italy Steel (VIS) and Viettronics Tan Binh (VTB) whch all rose limit up.

Among them, only SMC and TCM are expected to gain further in the future while others are forecast to continue their bearish tendency.

Amid the gloomy atmosphere, the Ho Chi Minh Stock Exchange has nevertheless enjoyed over VND2.04 trillion in trading value thanks to newcomer Saigon Securities Inc. (SSI) which managed to mobilize VND819.2 billion through 2.85 million shares at its debut on the southern bourse.
This also promises more liquidity in the future.