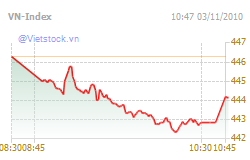 Movements of VN-Index on November 3. (Photo: vietstock.vn)

Stocks on Ho Chi Minh Stock Exchange declined the third consecutive day on November 3 as the market's prolonged lackluster performance caused investors to neglect.
Vietnam's benchmark VN-Index, a gauge of 266 companies and five mutual funds, shred 0.48 percent, or 2.14 points, to close at 444.16 points.
Trading volume on the city remained low, however, slightly improve over the previous day as  more than 26 million shares changed hands at a value of VND604 billion.
Of the index, 48 stocks advanced, 153 plunged, while 70 were unmoved.
Ocean Group Joint Stock Company (OGC) was the most active share in volume with 1.11 million shares traded. It was the only share on the measure whose trading volume was above 1 million shares today.
PetroVietnam Fertilizer and Chemicals Corporation (DPM) followed with 940,810 shares.
Saigon Thuong Tin Commercial Bank or Sacombank (STB) came next with 894,620 shares changing hands.
Nam Viet Corporation (ANV) lost the daily maximum allowed limit of 5 percent to trade at VND13,300.
Southern Seed Corporation (SSC) contracted 4.98 percent to VND26,700.
Khang An Investment Real Estate Joint Stock Company (KAC) fell 4.93 percent to VND28,900.
Printing company Cat Loi Joint Stock Company (CLC) soared 5 percent to VND21,000.
DESCON Construction Corporation (DCC) added up 4.9 percent to VND25,700.
Cotec Investment and Land-house Development Joint Stock Company (CLG) closed up 4.8 percent to VND34,900.
Meanwhile, the Hanoi's HNX-Index of the smaller bourse in the north also erased 0.88 points, or 0.8 percent, to 109.11 points. Trading volume increased over the previous session as more than 26.58 million shares traded, worth VND481 billion.
The UPCoM-Index slid 0.04 points to 42.17 points as of 11:15 am local time. The trading floor of unlisted shares saw 130,000 shares trading at VND1.6 billion.