Shares prices on VN-Index dipped on Monday, dropping 12.16 points at 426.67.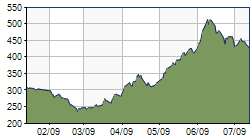 Source: BIDV Securities Company
Thirty minutes after opening, the exchange fell three points and continued to drop after leading stocks, such as Bao Viet Finance and Insurance Group (BVH), Vietcombank (VCB), Saigon Securities (SSI), Sacombank (STB) and Phu My Fertilizer and Chemicals (DPM), fell.
Nearly 30 million shares, worth VND1.1 trillion changed hands with 147 stocks retreating, nine remaining unchanged and only ten rising.
In this trading session, BHV dropped 2.2 points to 41.9, VCB fell 2.5 points to 49.
The remaining blue chip companies, such as Hoa Phat (HPG), Saigon Cables & Telecommunication Materials (SAM), and REE Technology (REE) also fell.
Share prices for Vietnam Dairy Products (VNM), the country's fifth-biggest listed company, continued to rise for the fourth straight trading session, to 112 points, recording a new peak.
At the smaller exchange in Hanoi, the HN-Index also edged down 4.76 points, 3.25 percent, to end the day at 141.61 with 148 companies losing, 11 unchanged and 32 rising.
The total value of the trading session was over 14 million shares, worth VND461 billion.