While several blue chips continued to slide, Sacombank (STB) and a few others had a good session at the Ho Chi Minh Stock Exchange today and helped push the VN-Index up 3.24 points to close at 1,084.87.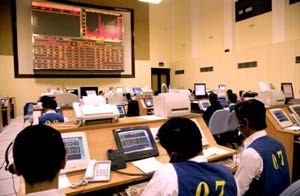 VN-Index gains 3.24 points to close at 1,084.87 today

Among the losers, FPT Corporation (FPT) dropped VND7,000 while Saigon Cables & Telecommunication Materials JS Company (SAM) and Schenker-Gemadept Logistics (GMD) shed VND3,000.

Less noticeably, REE Technology (REE) and Tan Tao Industrial Zone (ITA) ended VND1,000 down for the day.

Worst hit was PetroVietnam Tourism and Service (PET), which had outperformed for a month. It dropped limit down for the second consecutive time as 500,000 shares were traded.

Vietnam Electricity Construction (VNE) surprised everyone by shedding VND3,000 as 1.2 million shares changed hands, the second biggest individual trading volume of the session.

The stock making the biggest impact on the index today was STB, and it could well do so again in the immediate future. The news of Sacombank's latest substantial profit had an immediate effect on the market and led to more than 2.3 million shares finding new owners in the morning (only) session at the southern bourse.

Just as noticeably, both Ho Chi Minh City Infrastructure Investment (CII) and Hapaco (HAP) rose limit up after announcing decent profits for the first three quarters of 2007.

Other stocks doing well today were Pha Lai Thermal Power (PPC), which went up by VND1,000, Kinh Do Food (KDC), up VND2,000, and Vietnam Petroleum Transport (VIP), up a healthy VND4,000.

The latest stock to list also went down well with the share-buying community. On its debut, Vung Tau House Development (HDC) attracted six million buy orders.

Today's session was more evidence that the share market is regaining some trust among the punters, many of whom are confident of higher prices going forward as the major corporations begin announcing their third-quarter profits.