After a big drop yesterday, the VN-Index rose by 20.91 points to 1,096.2 at the Ho Chi Minh Stock Exchange on Wednesday as 93 stocks rose, 27 of them limit up.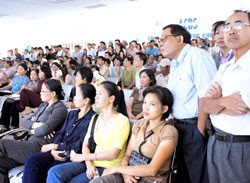 Local investors at the ACBS (ACB Securities Company Ltd)'s Thi Nghe sub-branch.
Up north, the Ha Noi bourse put in an even stronger performance and sent the HASTC-Index up 8.04 points to close at 377.33.
FPT Corporation (FPT), Vinamilk (VNM), Vinh Son Hydropower (VSH), Pha Lai Thermal Power (PPC) and Sacombank (STB) were the day's top performers. FPT rose by VND9,000, VNM by VND6,000, VSH by VND2,500, PPC by VND1,500 and STB by VND500.
Unlike recently, the small caps had a relatively bad day. Hang Xanh Auto (HAX) cast off VND2,000, Phuong Nam Cultural (PNC) dropped VND1,500, and Chuong Duong Beverages (SCD) and Saigon Fishing Net (SFN) lost VND300.
Similarly, Investment and Trading (DIC), Do Thanh Technology (DTT) and VTC Telecommunications (VTC) fell by VND500.
Although Saigon Cables & Telecommunications Materials (SAM) received substantial interest from the foreign institutions, its charm was too weak to tempt Vietnamese investors and the stock performed poorly too.
Still, there were some positive changes that should generate more confidence in the Vietnamese stock market. Indeed, the perpetually optimistic analysts are tipping a sharp increase for the VN-Index in the next two months.