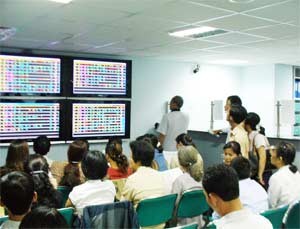 More investors are keenly earn profits from the rise of VN-Index. (Photo:TK)
The VN-Index increased this morning by 5.67 points (0.51%) above the previous close to end the day's session at 1,113.62. More than 8.5 million shares changed hands for some VND1.1 trillion.
On the Ho Chi Minh City Securities Trading Center, blue chips like BMC, DHG, KDC, TCT and SFI were among the 88 winners of the day, all rising to the 5% trading limit.
Investors are more confident about this upward trend after stock prices were restructured in the previous session. A professional investor told a local newspaper that this upward trend isn't as unstable as the last one because the VN-Index is increasing more steadily and at acceptable margins.
According to many financial experts, most corporations are experiencing better results compared to the same period last year and the index will likely surpass the current record of 1,170 next week.
Like the Ho Chi Minh center, the Ha Noi bourse this morning witnessed a slight rise on the index of 1.03 points to close at 348.32. Total trading volume was over 3.3 million shares worth some VND380 billion.
Ten Vietnamese firms to be listed on Malaysian bourse free of charge
The Bursa Malaysia Securities Trading Center will list the first 10 Vietnamese companies to register on it free of charge, CEO Yusli Mohamed Yusoff announced at a recent workshop in Ho Chi Minh City.
The offer was part of a deal Mr. Yusoff signed on Monday with the Ha Noi and Ho Chi Minh City bourses.
He said the ten companies would also be given assistance on the preparation of independent reports as well as free hits on the Bursa Malaysia website research program. Free instruction will also be offered related to cross-listing, technology upgrades, business management know how, listing rules and accounting standards.
The leading Asian stock market currently has 1,200 members.
Today's winners and losers