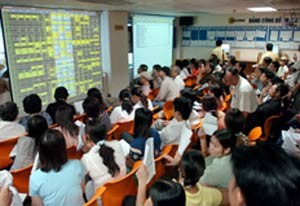 Investors appear to be happier as the VN-Index rallies strongly. (Photo:TK)
The VN-Index rose 36.43 points this morning to end the day's session at 983.62, or 3.85% above the previous close.
An impressive 84 of the 110 stocks climbed dramatically, including BMC, FPT, SJS, DHG, and REE, only nine stocks fell and 17 remained unchanged.
More than 4.95 million shares changed hands for nearly VND652.5 billion, the highest record in term of trading value for over the past ten days.
Blue-chip shares increased sharply, with BMC up by VND25,000, FPT by VND23,000, SJS by VND13,000, DHG by VND12,000 and REE by VND11,000.
HSTC joins hand with NextView Group
The Ho Chi Minh City Securities Trading Centre (HSTC) will link up with the Singapore-based NextView Group to introduce the Vietnamese stock market to overseas investors.
Under a memorandum of understanding signed on May 4, the two sides will organize training programs in Vietnamese to help local investors gain insights into finance, stock markets and financial events abroad.
According to Mr. Tran Dac Sinh, director of the Ho Chi Minh City Securities Trading Center (HSTC), the two sides will cooperate to organize a convention on Asia Investment and Commerce in Ho Chi Minh City on May 26-27. This is the first event to be staged in Viet Nam and expected to draw over 100 foreign investors.
Today's winners and losers
Related link: