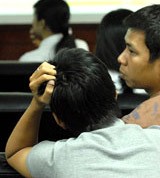 An investor reacts to market changes (Photo: Thanh Nien)
Today's VN-Index on the Hochiminh Stock Exchange went down to 441.75 points from 449.24 points yesterday.
The amount of stocks and equities for sales was tenfold of the quantity of purchase. So many investors failed to sell their stocks despite of placing a lot of orders repeatedly.
Just about 2.6 million stocks and equities were traded today, and the index approached 440 points after being below 450 yesterday.
On the Hanoi Stock Trading Center, the HASTC-Index reduced by 2.46 points to 132.75 points.