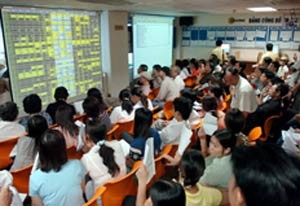 Today decline of the VN-Index leaves most investors an anxiety over possible losses.(Photo:TK)
The Vietnamese stock market this morning witnessed a surprising U-turn of the VN-Index when it dropped 27.89 points to close the session at 1,085.3, a decline of 2.51% over the previous day.
While 17 stocks actually managed rise, 82 stocks fell in today's session including the blue chips SJS (-VND22,000), KDC (-VND11,000), TDH (-VND11,000), NAV (-VND11,000)and DHG (-VND10,000).
Over 5.9 million shares changed hands worth VND705 billion, the lowest trading value over the past three days.
Meanwhile, other blue chips like BMC, SGH, TCT, ALT and FMC were among the winners of the day, rising to within 5% of the trading limit.
Similar to the Ho Chi Minh City market, the Ha Noi bourse this morning was down 4.46 points to close at 343.86. Out of a total 86 stocks, 63 went down, 13 rose and 10 remained unchanged.
Sacombank gets nod for shares trading principle in 2007 
The State Securities Committee (SSC) this morning officially approved Sacombank's principle for public share trading in 2007.
The principle includes the shares issued to pay dividends for the 2006 financial year and rights issued to existing shareholders and Sacombank's senior staff.
In addition, the Saigon Thuong Tin Commercial Joint-stock bank, or Sacombank, will increase its chartered capital in 2007 to more than VND 4.4 trillion, of which VND2 trillion worth of shares will be issued to the bank's existing shareholders.
Today's winners and losers