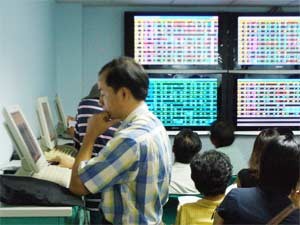 An investor scans the fluctuations of the VN-Index at a local securities company. (Photo:TK)
By the end of today's session, the VN-Index fell to close at 1,093.77, a slight decline of 4.87 points or 0.44%. However, in a repeat of yesterday's ebullient trade, more than 6.2 million shares changed hands for a total of VND837 billion.
Of the total 109 stocks, 23 climbed, 60 fell and 26 remained unchanged. The big movers responsible for the lower index reading were blue-chip stocks, with BMC up by VND17,000, KDC by VND11,000, TCT by VND11,000, SJS by VND5,000 and HBC by VND5,000.
Among the losers were blue chips like FPT, SFI, SGH, HAS, DMC, which all fell below the 5% reporting limit.
Ha Noi's market this morning went flat when decreasing 2.39 points to close at 340.75. The market saw 60 of the total 86 stocks falling while the 20 others increased. Total trading volume on the market was more than 1.9 million shares, worth VND204.9 billion.
VND700 billion of Government bonds go on auction
The Government auctioned off VND700 billion (about US$43.7 million) in Government bonds yesterday at the Ha Noi Securities Trading Centre.
The five-year bonds bear a face value of VND100,000 and will be issued by the State Treasury on May 30.
The auction drew 13 bidders that registered VND4.38 trillion (US$273.7 million), more than six times the volume called for in the bidding. Three of the bidders won at an interest rate of 7.05%, equal to the ceiling interest rate and 0.05% higher than that of the last auction late April.
After nine issuances, the State Treasury has so far generated VND4.96 trillion (US$310 million) through auctions at the Ha Noi Securities Trading Centre.
Today's winners and losers
Related link: