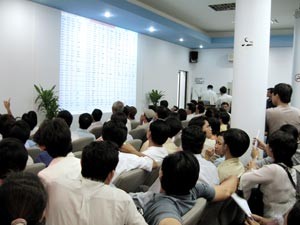 Investors still believe that share prices hover around "the bottom". (Photo: T.C)
After 3 consecutive trading sessions of surging, yesterday morning the stock market downed again.
The demand seemed to be weakened in a few days earlier. At the beginning of the session, on such stocks as REE (stock of ReeTech), SAM (Sacom), GMD (Gemadept), KDC (Kinh Do) and VNM (Vinamilk) there were only few buying orders with limited volume which has caused a sell-off on many other stocks.
"Newcomer" CII (HCMC Infrastructure Investment), of which selling orders at floor price, downed 5% despite having the highest trading volume of the whole market with more than 240 thousand shares changing hands. Its also partly pulled the market average downed 7.24 points (1.31%) to 544.55 points.
As the prices decreased but the selling volume saw no significant increase, many investors firmly believe that shares still hover around "the bottom" for a while and will not start the climb any time soon.
As for foreign investors, they still keep their usual strategy, buying in once the prices down. In June 7 session, this group of investors bought more than VND 8 billion worth of shares and fund certificates while sold merely VND 884 million.
Related Articles:
Vietnamese Stock Market: Unhurriedly Wait For A New "Signal"
Viet Nam Dragon Fund Buying in GIL and TMS
Sacom to Issue 14 Million Shares
CII's Debut Leads the Market in Trading Volume
Vinamilk and Gemadept Power the Market
Stock Price Suddenly Slid
Investors Excited About Development Policies