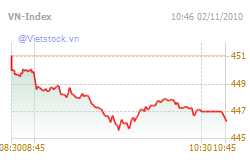 Movements of VN-Index on November 2. (Photo: vietstock.vn)

Vietnam's benchmark VN-Index tumbled on November 2 as bearish sentiment covered the market.
The shares of 266 companies and five mutual funds slumped 1.06 percent, or 4.76 points, to close at 446.3 points.
Trading volume on the city bourse slightly recoverd over the previous day as just 25.53 million shares changed hands at VND586.26 billion.
Among the index members, 40 increased, 169 declined, while 62 stalled.
Saigon Securities Inc. (SSI) was the most active share in volume with 1.48 million shares changing hands today.
PetroVietnam Fertilizer and Chemicals Corporation (DPM) ranked second with 1.35 million shares traded.
Saigon Thuong Tin Commercial Bank or Sacombank (STB) came next with 1.21 million shares.
Mien Trung Petroleum Construction Joint Stock Company (PXM) plunged 8.06 percent to VND11,400. The company will advance dividends for the first term of this year to its current shareholders in cash at a ratio of 7.5 percent.
Seafood exporter Hung Vuong Corporation (HVG) eroded 7.14 percent to VND23,400. The company will pay dividends for the first term of this year in cash at a ratio of 10 percent on November 30.
Vien Dong Pharmaceutical Joint Stock Company (DVD) and National Seed Joint Stock Company (NSC) slashed 5 percent to trade at VND76,000, and VND34,200 respectively.
Techno - Agricultural Supplying Joint Stock Company (TSC) grew 4.91 percent to VND17,100.
Dam Sen Water Park Corporation (DSN) went up the first time in five trading sessions, surging 4.88 percent to VND21,500.
Vietnam Active Fund (VFMVFA) edged up 4.82 percent to VND8,700.
The Hanoi's HNX-Index recoiled 1.09 points, or 0.98 percent, to 109.99 points. Trading volume on the northern bourse recovered to 21 million shares worth VND425.64 billion.
The UPCoM-Index slipped 0.2 points to 42.07 points. Around 121,300 shares were traded at VND1.72 billion.