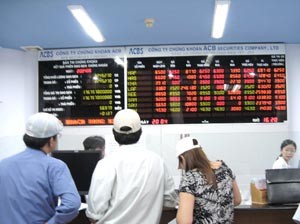 Investors buy stocks in ACB Securities Company. (Photo: T.C)
The stock market continued to see the surge of share prices.
In the April 24 trading sessions, the VN-Index made a strong advance over the 600 points mark.

Thirty one of thirty six kinds of shares and fund certificates surged, raising the VN-Index by 23.75 pts, closing at the record high of 615.14 pts.
There were 2.38 million of shares changing hands, accounting for VND 143.17 billion. Moreover, the market also had VND 16 billion worth of shares and fund certificates and VND 161.4 billion worth of bonds in negotiating transactions.
One thing worth mentioning is that foreign investors continued to increase their selling volumes. Throughout the sessions, foreign investors just bought in 55 thousand of shares, valued at VND 3.25 billion, but sold out 710 thousand of shares, or VND 65.64 billion.
Therefore, it did not take long after exceeding the 571 points mark before the milestone of 600 points was over-run.
Many investors are currently thinking of a more remarkable milestone beyond the 600 pts despite the expensive stock prices.
For instance, in order to own a share of Kinh Do Coporation or Vietnam Dairy Products Joint Stock Company, investors have to pay VND 100,000, ten times more than their par value. This is the highest price of listing shares in recent five year.
Related Articles:
Vietnamese Listed Companies' P/Es Double up
Total Trading Volume Sets New Record
VN-Index Sets New Record