Prices of 107 stocks slipped and only eight gained as the VN-Index dropped again this morning to 930.36 points, down 15.96.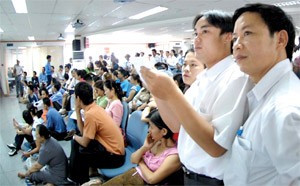 Investors rush to sell shares today
Declining buy orders in the end of yesterday's session spooked investors who rushed to sell today while few buys were about.

Trading volume of the biggest caps slid. Sacombank (STB) and Phu My Fertilizer and Chemicals (DPM) both cast off VND1,000.

The number of STB shares changing hands today slumped 44 percent from 1.6 million traded yesterday. Buys of DPM stocks were down over 15 percent from yesterday.

Other large caps also went slid.
Saigon Securities (SSI) and Kinh Do Food (KDC) shed VND4,000, FPT Corporation (FPT) and Petro Vietnam Drilling and Well Services (PVD) VND3,000, Schenker-Gemadept Logistics (GMD) and REE Technology (REE) VND2,000, Pha Lai Thermal Power (PPC) and Vinh Son Hydropower (VSH) VND1,500, Vinamilk (VNM), Vincom (VIC), Tan Tao Industrial Zone (ITA) and Saigon Cables & Telecommunication Materials (SAM) VND1,000.

Newly-listed PVTrans (PVT) continued its slide, losing VND4,000, down 34 percent from its initial offering price.

Up north, the HASTC-Index dropped 2.64 points to 326. All blue chips sagged, including Asia Commercial Bank (ACB), Bao Minh Insurance (BMI), Thac Ba Hydroelectric (TBC), Bao Viet Securities (BVS), Petroleum Chemical Products (PVC) and Petroleum Technical Services (PVS).

Analysts forecast there might be no positive change this week.