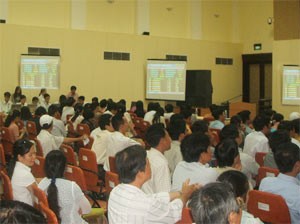 Investors observe the VN-Index board, hoping for a more stability of the Vietnamese stock market. (Photo:TK)
The VN-Index this morning gained 0.08 points, or 0.01%, to end the day's session at 1,020.04. More than 4.1 million shares changed hands for VND595 billion.
Despite the rise of VN-Index, there were 74 losers among the 109 stocks listed on the Ho Chi Minh City Securities Trading Center.
Blue chips like BMC, FPT, KDC, TCT and BVD were among the 17 winners on the day, all of which rose to the 5% trading limit.
An executive from ACB Securities Company told a local newspaper that individual investors now have become more experienced in the stock market, and feverish selling or buying would not take place in the near future, giving more stability to the market.
More BIDV bonds on HSTC
The Bank for Investment and Development (BIDV) recently brought over 2 million additional bonds to the board at the HSTC. The bonds, with a face value of VND100,000, are worth a total of more than VND2 trillion (US$125 million).
Four types of bonds have been issued: (1) BID 10106, three-year term with an annual interest of 9.36%, (2) BID 10206, five-year term with 9.5% interest, (3) BID 10306 10-year term at 10.1% interest and (4) BID 10406, 20-year term at 10.45% interest.
According to the bank's General Director Tran Bac Ha, BIDV planned to issue about US$1 billion worth of bonds in 2007.
BIDV was the first bank to list its bonds on the exchange in November 2000. These initial bonds were worth a total of 160 billion VND. Last July, 2.2 trillion VND in BIDV bonds was on the board.
Today's winners and losers
Related link: