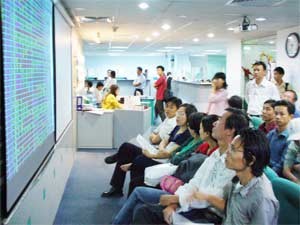 Investors take a close look at the VN-Index fluctuation. (Photo:TK)
The local stock market went down slightly on a small volume of shares being traded in this morning's session before shutting down for two days this weekend.
By the close of the day, the VN-Index had slipped by 0.74 points to 1033.69. Like a repeat of yesterday's stagnant trade, only 5.509 million shares were changed hands for over VND653 billion.
Only 29 of the 109 stocks went up, while 58 fell and 22 remained unchanged. The big movers responsible for the lower index reading were blue-chip stocks, with FPC down by VND28,500, SGH by VND9,000, FPT by VND5,000, HAX by VND4,500 and UNI by VND3,500.
Meanwhile, other blue chips like DHG, SJS, KDC, TCT and IMP were among the winners of the day, rising to within 5% of the trading limit.
STB as the most traded stock witnessed its third decline this week. Investors traded 991,000 STB shares worth VND66.4 billion, accounting for 30% and 26% respectively of the market's total trading volume and value.
Similar to the Ho Chi Minh City market, the Ha Noi bourse this morning was down by 3.09 points and closed at 299.77. Out of a total 86 stocks, 56 went down, 17 rose and 13 remained unchanged.
Recently, the State Securities Commission said that an investigation into possible price manipulations of BMC and TCT would be announced soon. The result is that the report given by the Ho Chi Minh City Securities Trading Center on trade of the two stocks was not enough to conclude that there were cheats on transactions of BMC and TCT stocks.
An experienced investor said that many investors kept buying BMC and TCT shares partly because they had bought those shares at high prices before and some investors without enough experience also accepted to buy those at high prices.
Today's winners and losers