Shares stepped back from morning trade on the HCM Stock Exchange on Thursday as selling pressure increased in large-cap stocks on fears of a steeper correction.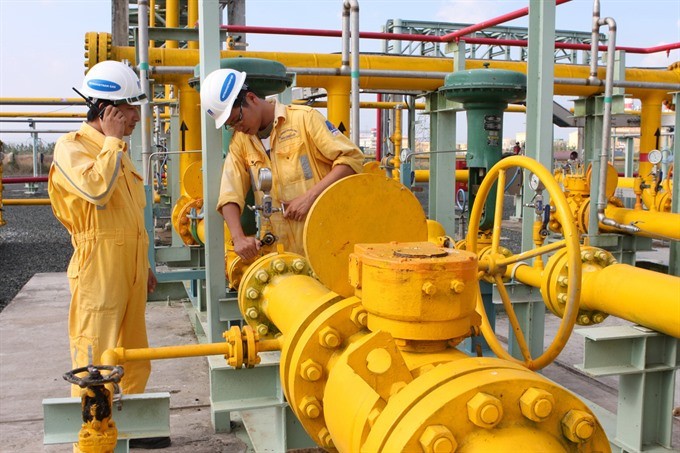 Workers check gas pipe system. PV Gas is one of the 19 stocks in the VN30 basket whose market value and liquidity declined yesterday on the stock market. (Photo: VNA/VNS)
The benchmark VN-Index sank for a second day, down 0.17 percent to close at 724.35 points. The southern market index decreased nearly 0.8 percent in the previous session.
Nineteen stocks in the VN30 basket that tracks the 30 largest shares by market value and liquidity declined, and only nine advanced. The biggest draggers included Vinamilk (VNM), PV Gas (GAS) and Sacombank (STB), of which Sacombank dropped by the daily limit of 7 percent.
Shares of this lender have lost nearly 10 percent since April 7 after Novaland Investment Group (NVL) announced it would not participate in Sacombank's restructuring scheme as planned previously.
Restructuring of Sacombank whose bad debt ratio stood at 5.53 percent at the end of 2016, nearly twice the rate of 3 percent allowed by the central bank, is forecast to be a difficult task which requires money, time and transparency. 
The State Securities Commission has approved the bank's request to postpone the submission of its 2016 financial report. It will hold its annual shareholders' meeting on April 28.
Dramatic increases of selling pressure in the second half of the afternoon session, especially in leading stocks, caused the VN-Index to drop in the final trading minutes.
"This is negative signal for the overall market," said Tran Duc Anh, a stock analyst at Bao Viet Securities Co.
He predicted that market indices were likely to decline on the back of divergent cash flows.
Speculative stocks, such as FLC Group (FLC), Tân Tạo Investment Industry (ITA) and agribusiness Hoàng Anh Gia Lai Co (HAG) and Hoàng Anh Gia Lai Agricultural Investment (HNG), continued their downward spiral.
Saigon Securities Inc's retail research said speculative stocks were under heavy selling pressure as they were on the list of stocks using high margin lending of securities companies. Prices of these stocks have increased substantially this year, which prompted profit taking. 
On the positive side, recovery of real estate developer VinGroup (VIC), insurer Bao Viet Holdings (BVH), brewery Sabeco (SAB), Mobile World Group (MWG) and Military Bank (MBB) supported the market.
On the Hanoi Stock Exchange, the HNX-Index maintained a modest rise of 0.13 percent and closed the trade at 90.03 points.
Liquidity remained positive with 242 million shares worth a combined VND4.7 trillion (US$206 million) traded in the two markets.