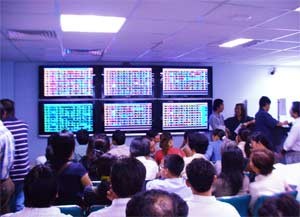 Investors enjoy the rise of VN-Index. (Photo:TK)
Successive rises of the Vietnamese stock market over the past few days have given investors a bright hope for the VN-Index's touch of 1,100 point marks.
Many financial experts predicted that the Vietnamese stock market would continue its upward trend in the coming days when the local bourses made a U-turn with the VN-Index soaring remarkably.
Last week, most shares saw their prices increase: 64 share items increased in prices, 35 decreased and eight share items remained the same.
This morning session, the VN-Index continued to rise strongly and closed at 1,085.41 points, a remarkable increase of 18.85 points, or 1.77%, above the previous close.
In all, nearly 5.7 million shares changed hands for VND769.3 billion. 73 of the total 110 stocks rose dramatically, including BMC, SJS, TDH, KDC and BMP, only 17 stocks fell and 20 remained unchanged.
Blue chips such as BMC, SJS and TDC increased sharply, up by VND40,000, VND20,000 and VND10,000 respectively.
STB led the market in terms of liquidity and trading volume with 1,167,960 shares changing hands at over VND187.9 billion.
Today's winners and losers