Investors increased both sell and buy orders on Thursday, boosting the VNI-Index to 558.56 points, up 3.42 points from Wednesday.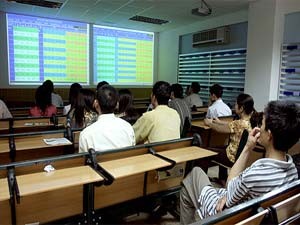 Investors at a trading session
Some 9.69 million sell orders were placed when trading opened on the Ho Chi Minh exchange.
Buy orders also rose and by the end the session nearly 30 million units worth over VND1,100 billion (US$69 million) had changed hands.
 
This volume is remarkably higher than that in the previous session, when only 17.6 million units were traded for VND863 billion (US$52 million).
Ha Noi's HASTC-Index rose slightly by 0.57 point to close at 194.87 points.
The wider trading band of 5 -7 percent has helped improve the liquidity of the stock exchange, experts said.
In a related development, Sacombank is offering stock-mortgaged loans with a VND300 billion (US$18 million) a line of credit.
Each customer can get a loan of up to VND5 billion (US$301,000) for a maximum term of two months.