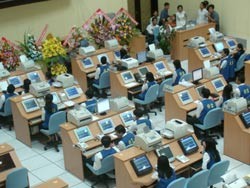 December 2006 alone witnessed over 100 new listings as firms rushed to avail themselves of tax incentives. (Photo:TC)
In its East Asia and Pacific Update report released yesterday, the World Bank (WB) estimated that foreign stock holdings in Viet Nam currently total some US$4 billion, adding that local authorities have put to rest for now rumors that capital controls would be imposed in a bid to slow down foreign inflows or outflows.
The report also said that measures have been announced to bring into play strictor disclosure by companies, clamp down on insider trading, and limit bank lending against stocks.
Credit growth slowed from around 32% at the end of 2005 to a low of 21% by mid-2006 and back up to 25% by November.
The slower growth in 2006 was mainly attributed to more cautious lending by state owned banks as they adhered to stricter prudential standards. Lending from joint-stock banks on the other hand grew by nearly 40%. Base money growth in 2006 was driven almost entirely by foreign inflows which were incompletely sterilized by the State Bank of Viet Nam (SBV).
On the policy front, a new regulation stipulates that all joint stock, joint venture and foreign invested banks need to have a chartered capital of VND1 trillion by 2008 and VND3 trillion by 2010. As for state-owned commercial banks, a minimum chartered capital of 3 trillion dong is required by 2008.
Nearly 15 months after the Prime Minister's decision to equitize the Vietcombank and Mekong Housing Bank, consultants have been hired to advise on the process. Under current plans the banks will conduct initial public offerings in the fourth quarter of 2007.
The report also noted that stock market capitalization surged from less than US$0.5 billion in December 2005 to 13.8 billion (22.7% of GDP) by the end of 2006. Currently, it stands at 24.4 billion. The number of listed firms has risen from about 40 to nearly 200 at present.
December 2006 alone witnessed more than 100 new listings as firms rushed to avail themselves of tax incentives which will be withdrawn in 2007. The stock price index shot up 144% in 2006 and has already seen an additional increase of 50% in the first two months of 2007.
Related links:
VN-Index Up Due to Falling Supply