High inventory, a sharp decline in price, and poor consumption, has sent sugar plants into despair; compelling the Vietnam Sugarcane and Sugar Association to ask relevant departments to flex export policy for sugar to save sugar producers and farmers.
According to the latest report by the Vietnam Sugarcane and Sugar Association, since the beginning of this year, sugar plants across the country have produced 818,360 tons of sugar from the last crop, an increase of 58,235 tons year-on-year.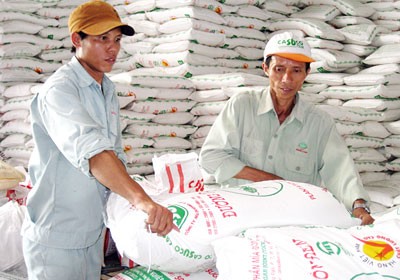 Sugar refineries have been holding inventory at a record high. (Photo: SGGP)
The price of sugar fell to a record low of VND13,300-13,500 per kilogram while it was around VND16,00-16,700 per kilo in August last year. Firms said that cost price for a kilo of sugar was around VND13,500-14,000--hence compared with current selling price, sugar refineries have been suffering huge losses.
Meanwhile, consumption of sugar has been too low due to severe competition with illicit sugar being smuggled in from Thailand through the South-West border into Mekong Delta and sold at a cheaper price than domestically-produced sugar.
The association admitted that local sugar refineries have been holding inventory at a record high of about 348,000 tons.
Nguyen Hoang Ngoan, deputy CEO of Can Tho Sugar Company (Casuco), is concerned that since the beginning of the crop, its two sugar refineries Phung Hiep and Vi Thanh have manufactured more than 80,000 tons, for which inventory is 23,000 tons. In order to clear inventory, the company has run many promotional campaigns to increase sales but the progress is reportedly slow.
Weighed with high inventory for a long time, besides the fact that their capital is buried, sugar refineries also have to suffer warehouse cost, loan interest, and a shortage of money to buy sugar cane for production. Due to difficulties, some plants had to halt operations and some operated perfunctorily and plan to end production sooner because of financial crunch and ineffective business.
Meanwhile, sugar cane growers are neither in any better shape. Pham Van Man, a farmer in Cu Lao Dung District's Dai An 1 Commune in Soc Trang Province, said that the current price of sugarcane was just around VND700-750 per kilo so farmers almost become penniless after a hard-working year. Many farmers have leased out their land or now work for other people to eke a living.
According to the association, the basic problem of the sugar industry is the marked disparity in profits for refineries, farmers and consumers.
Nguyen Thanh Long, chairman of Vietnam Sugar and Sugar Cane Association, said that this year, local sugar refineries will produce more than 1.53 million tons of sugar, adding 73,500 tons which will be imported according to WTO agreement and about 178,100 tons of inventory from previous crop, raising the total amount of sugar to more than 1.79 million tons. Leveling with local consumer demand, it is forecast that there will be an excess of 450,000 tons of sugar, excluding illicit sugar from Thailand.
In this context, the association proposed to relevant departments for a more flexible mechanism in export of sugar to clear high inventory to rescue refineries and farmers. Deputy Prime Minister Hoang Trung Hai has entrusted the ministries of Industry and Trade, and Agriculture and Rural Development to coordinate with each other to resolve the problem. However, until now, they have not given any opinion. Meanwhile, illicit sugar still dominates the market, causing losses to local sugar refineries.
The association thinks that while waiting for the mechanism for export of sugar, authorities should have measures ready to prevent smuggling of sugar. As for this, the steering committee against smuggling, fake goods, and trade frauds, known as Central Steering Committee 127, ordered the association to provide information about smuggled sugar and present solutions to ease smuggling of sugar. This order of the committee is confusing the association as the latter does not function as an investigative office.