Sugar companies and distributors are scrambling to buy sugarcane to meet the annual surge in demand for sugar during Tet, pushing up sugarcane prices in the Mekong Delta.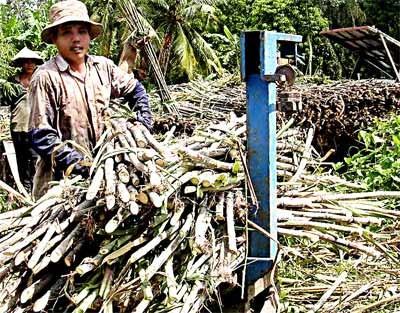 Farmers harvest sugarcane in Hau Giang Province (Photo: SGGP)
The prices have risen to VND850-900 a kilogram, with some sugar mills even paying a record price of VND1,000.
 
Middlemen have rushed to Hau Giang, Soc Trang, and Tra Vinh Provinces, where the harvest is reaching its peak, to buy cane.
 
Truong Van Hien, a farmer in Hiep Hung Commune, Hau Giang Province, said: "Sugarcane prices have never been so high. The higher the prices, the more the brokers buy."
 
Le Van Dang, head of the Department of Agriculture and Rural Development in Soc Trang Province's My Tu District, said most of the better-quality cane has been sold out and buyers are now fighting over sugarcane that has yet to ripen.
 
With prices trending upward and dealers frantically scouring the area for cane, farmers are less than eager to sell their crop and are waiting for higher prices, he added.
 
Pham Hong Van, head of the Agriculture and Rural Development Department of Cu Lao Dung District, said, dealers have competed energetically for sugarcane as they have flocked to farms to buy in many forms right after 7,300 hectares of sugarcane had just been harvested.
 
Nguyen Thanh Long, general director of the Can Tho Sugarcane Company, said at current prices farmers enjoy an average profit of VND50-60 million (US$2,700-3,240) a hectare, with some in Hau Giang Province earning up to VND100 million.
 
Sugar prices have also jumped. Wholesale prices currently range from VND15,000 to 16,000 a kilogram and retail prices are around VND17,000, the highest so far this year.
 
Mr. Long attributed the rise to supply being less than demand. Confectionary companies need sugar to make sweets for Tet in February 2010 while sugar mills in the central and Central Highlands regions have yet to begun processing sugar though the season is a few months old due to the recent typhoons and northern-based companies will start production in late November.
 
Import of sugar from Thailand has also fallen, he added.
 
According to the Vietnam Sugarcane and Sugar Association (VSSA), sugar prices will drop in the next few days when companies in the central and northern regions begin production. But they are not expected to fall below VND14,000-15,000.
                                                                   
VSSA said stabilizing cane and sugar prices and preventing a mad scramble during harvest remains a problem.
 
Half the sugarcane harvested has been bought by middlemen who wield a huge influence on prices, it admitted.
 
Sugar companies confess they are unable to set up a system to buy sugarcane directly from farmers due to a shortage of staff and vehicles, and are, therefore, dependent on brokers.
 
Vo Thanh Dang, VSSA chairman, said companies should discuss prices and crop schedules with middlemen for mutual benefit but admitted it is unwieldy because there are so many middlemen.