In these days, refined sugar price keeps increasing. Sugar plants in the Mekong Delta are coming in the crop-end period, and the raw materials for sugar production are running out. There will certainly be a shortage of sugar. Illegally imported sugar might flood Viet Nam's market across the Southeast border.

Sugar price jumps amid sugar short supply.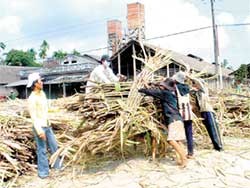 Farmers in the Mekong Delta are transporting sugar canes to sugar plants.
In the Mekong Delta markets, white caster sugar was traded on May 2 at around VND11,000-13,000 per kilogram, or even VND13,500 per kilogram in some places (according to class of sugar), an increase of VND500-800 per kilogram from last month.

Ms. Nam Huong, an owner of a refined sugar agency in the City of Can Tho, says, "Sugar price is increasing. Sugar "fever" may occur in the time to come due to high consumption, for supply is smaller than demand at the end of the crop."

So far, two sugar factories Vi Thanh and Phung Hiep have produced 60,000 tons sugar, said Mr. Nguyen Thanh Long, Director General of Can Tho Sugar Cane and Sugar Joint-Stock company (Casuco). If the company tries its best, it can produce around 2,000 tons more sugar by mid-May (end of crop). Therefore, the sugar stockpile is not high this year.

The Ministry of Agriculture and Rural Development evaluates that the total sugar canes which have been bought and used for producing sugar nationwide is about 7.1 million tons, a decrease of 2.5 million tons over the last crop, while 37 sugar plants have produced 970,000 tons of sugar. It will be short of 380,000 tons of sugar to meet the total sugar demands of the whole year.

The reason is the decrease of sugar-cane farming area in many regions (about 20,000 hectares), pulling sugar output down.

Sugar supply is short; sugar price increases! When the crop started, sugar plants rushed to buy raw materials, pushing sugar-cane price from VND400 per kilogram to a record high price of VND720 per kilogram.

Sugar price increases, sugar cane farmers benefit. It is said that "sugar cane is getting valuable" in the Mekong Delta.

According to the Agriculture and Rural Development Departments of provinces, people can profit VND35-40 million net from the production of 80-120 tons of sugar canes per hectare. Particularly, in areas like Tra Cu (Tra Vinh province), Cu Lao Dung (Soc Trang province), Phung Hiep (Hau Giang province), where some farmers can harvest up to 150-200 tons per hectare and profit as much as VND50-60 million.

Mr. Nguyen Thai Hoa, Deputy Director of Tra Vinh Sugar Cane and Sugar company says, "Both farmers and sugar plants have earned huge profits this year because the plants have worked continuously and sold sugar at a high price. Meanwhile, farmers have been very active in turning to new breeds of high qualified sugar canes, increasing sugar content from 8-9 to 10-12."

More things to worry

According to experts' forecast, sugar prices will vary sharply. There will be serious shortage of sugar due to the demand growth. It is estimated that the country's sugar consumption increases by an average of 5% yearly. Viet Nam might demand 2 million tons of sugar by 2020 as forecasted.

However, sugar production has decreased continually during the past three years. If the whole country produced over 1.4 million tons in the 2002-2003 crop, the sugar production decreased at 1.2 million tons in 2003-2004, and 1 million tons in 2004-2005.

In order to solve the present problem of sugar shortage, the Government has permitted enterprises to import sugar. About 40,000 tons were imported recently. 150,000 tons are planned to be imported by August 2006. The Trade Ministry and the Agriculture and Rural Development Ministry have requested that the Government lift the mechanism of granting import licenses and quotas so that enterprises can get more active in importing sugar to meet the domestic consumption.

Farmers in the Mekong Delta are returning to growing sugar canes because sugar prices are escalating. Many households have destroyed 1,000 hectares of fruit and vegetable farms, longan orchards, and shrimp ponds to grown sugar canes at Cu Lao Dung District, Soc Trang Province. Sugar canes farming area has increased to nearly 1,000 hectares in Hau Giang Province, and 3,000-5,000 hectares in Long An provinces. Farmers are growing more sugar canes in Tra Vinh, Ben Tre and Ca Mau provinces.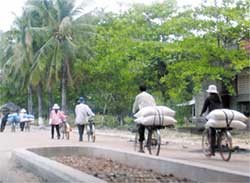 Sugar is conveyed illegally across the border in Kien Giang Province.
Vice Chairman of the Long An People's Committee, Nguyen Thanh Nguyen, estimates, "An area of 15,000 hectares is currently equivalent to one million tons of sugar canes. It needs another 300,000 tons to meet two local sugar plants' demands. Therefore, the increase of sugar cane crop areas will not cause a surplus of raw materials . It is important now is focusing on investment in enhancing productivity and quality of sugar canes. In the near future, Long An Province will expand the model of co-operative farming to assist people in dealing with plants methodically."
The case in Tra Vinh Province is really a cause of concern. The production capability of its sugar plant is only 320,000 tons per year, but the sugar cane output has exceeded 700,0000 tons. The Ben Tre Sugar Plant demands only 250,000-300,000 tons per year, but farmers are growing nearly 800,000 tons of sugar canes.

Sugar-cane farming has exceeded planning, leading to raw material surplus, and hence, a possible slump of sugar cane prices in the next crop.

Manager of the Cu Lao Dung District's Economic Department Pham Quang Huy worried, "We do not encourage the expansion of growing areas, but in fact, we cannot stop it due to legal problems. The present solution to this problem is campaigning people not to expand sugar cane areas out of planning just for a quick buck."

A difficulty now is that sugar plants have been "in the same boat", the construction of raw material areas is still superficial, and competition in purchase has yet been overcome.

There are no sanctions or plausible regulations for sugar plants. In practice, sugar plants' equitization is progressing at a snail's pace due to various factors. The subsidizing mechanism still dies hard whereas Vietnam's integration in AFTA is nearing.

The tariff of refined sugar is 40% in 2006, it will be 30% in 2007 and 0%-5% in 2010. At that time, imported sugar will flood the Vietnamese market, and Thailand will be a strong competitor.

At present, refined sugar is imported illegally across the Southeast border at a huge quantity, hundreds to thousands of tons per day. It is about VND500-1,000 per kilogram cheaper than domestically-produced sugar. Illegally imported sugar is dominating the market along the border provinces.

The sugar industry would die right in its home-yard if it failed to change its way of thinking and working. Of course, it is better to change sooner rather than later.
Related articles:
Free Permission Applied on Imported Sugar for Export Production
Sugarcane Area Increasing in Mekong Delta