Sugar prices have surged sharply ahead of Tet (the lunar New Year) due to high demand while supplies are limited.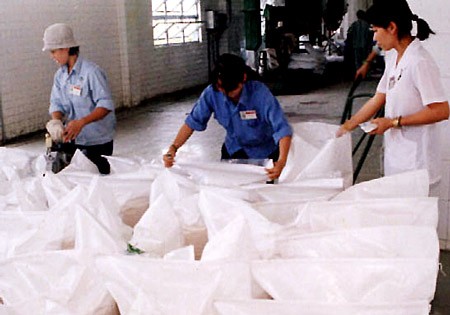 Workers package sugar at Vi Thanh Sugar Mill in Hau Giang Province (Photo: SGGP)
The Vietnam Sugarcane and Sugar Association said local sugar prices had increased by VND500-1,500 per kilogram during the past two weeks, with RS sugar increasing from VND14,000 up to VND15,000 per kilogram, and RE sugar from VND16,000 to VND16,500.
These were wholesale prices set by sugar factories, but retailers had pushed their prices up to a record of VND19,000-22,000 per kilogram, the association said.
The association's chairman Vo Thanh Dang attributed the price hike to the high global prices of sugar, high demand for sugar to make sweets for Tet, and a crackdown on illegally imported sugar.
The price spike was inevitable since the demand outweighed supply, he added.
Nguyen Van Thu, owner of a confectionery mill in Lai Vung District of the Mekong Delta province of Dong Thap, said, "It's unacceptable that prices have surged sharply right in the season of sugar production nationwide. It's unfair for consumers."
Nguyen Thanh Son, director of the Ben Tre Sugar Company, said his business was tired of dealing with the cost issue over the past few days. When sugar prices increased, farmers immediately raised prices of sugarcane, causing difficulties for sugar companies, said Mr. Son.
At present, prices of sugarcane with a sugar content of 10 CCS have surged to VND920-950 per kilogram, and even to VND1,050 and VND1,200 at some areas in the Mekong Delta, he said.
Merchants are scrambling for sugarcane at farms in Tra Vinh, Soc Trang and Ben Tre provinces to sell to sugar companies, Mr. Son added.
Nguyen Thai Hoa, deputy director of the Tra Vinh Sugar Company, said, "We just invested VND27 billion to guarantee outlets for 2,500 hectares of sugarcane, but merchants have rushed in to buy before us, leaving the company with a shortage of sugarcane."
Due to the fight for sugarcane, the company's plan of producing 280,000 tons of sugar in this crop might fail, he added.
Meanwhile, a sugar company in Ben Tre Province said if it makes every effort, it can complete about 90 percent of its goal.
Due to the shortage and high demand for sugarcane, sugar companies have even had to halt production for a day after two or three days of operations.
Solutions
A rumor has circulated that sugar companies have hoarded their products to cause a shortage and thus spur a rise in sugar prices, but companies have denied it.
Companies have borrowed loans at interest rates of 1.1-1.2 percent per month and Thailand is entering a peak season of sugar production, so it is unlikely that most companies would hoard their products.
Nguyen Thanh Long, general director of the Can Tho Sugar Joint Stock Company, said, "The current price of sugarcane is reasonable and encouraging farmers to grow sugarcane."
Mr. Dang said sugar is an essential good that needs to be monitored in terms of pricing.
The Government should introduce a mechanism to reserve sugar for regulating the market when necessary like it is doing with rice and salt. With the country's annual consumption of 1.2 million tons of sugar, 200,000 tons should be kept in reserve, he said.
Enterprises should be provided with loans to reserve sugar for peak months of demand. Sweets and beverage companies should sign purchase contracts with sugar companies at the beginning of the year so sugar companies can make production plans, Mr. Dang added.


Diep Kinh Tan, deputy minister of Agriculture and Rural Development, spoke with Sai Gon Giai Phong January 15 about the causes of the sugar price hike and solutions to the issue. 
SGGP: Why don't enterprises reduce their prices? 
Deputy Minister: I think that [companies] have taken advantage of the current rapid surge in prices on the market to raise sugar prices. They didn't consider consumers' interests.  
I agree that sugar factories have to follow the market price but they have to remember that the country's market mechanism is monitored by the Government. Therefore, they can't take advantage of it to raise prices, but have to help the Government stabilize prices and prevent inflation.  
SGGP: Do merchants collude with sugar factories to raise sugar prices unreasonably [which are higher than global prices]. 
I can't say so now, but obviously sugar factories have colluded with each other.  
SGGP: The Ministry of Industry and Trade has suggested allowing factories that use sugar for their production to import sugar to prevent a price hike by sugar companies, but the Ministry of Agriculture and Rural Development has hesitated at that suggestion. Does the ministry want to protect sugar factories? 
It doesn't. The two ministries have agreed imports of only 150,000 tons of sugar for the time being and a further 150,000 tons after the sugarcane crop (in the first quarter).  
Unfortunately, some sugar enterprises have taken advantage of the Government's protection. If they don't reduce prices, the Government will take measures by allowing imports of sugar without duties. I have reported the issue to Prime Minister Nguyen Sinh Hung. 
SGGP: When will sugar prices scale down? 
I think after the first quarter.