Sugarcane production has declined sharply as fickle prices push farmers to other crops, but sugar makers' demands have risen, said the Ministry of Agriculture and Rural Development on June 21.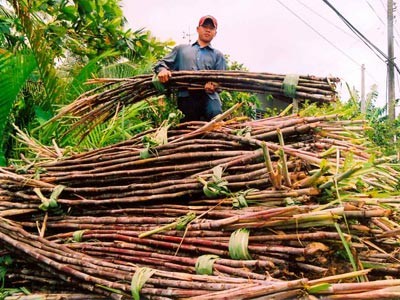 A farmer harvests sugarcane crop in Mekong Delta province of Ben Tre (Filed photo)
The ministry held a meeting in Ho Chi Minh City that day with agricultural firms and sugar producers in southern provinces.
According to provincial representatives, although sugar prices are high, around VND1 million (US$53) per ton, sugarcane growing areas have decreased. Specifically, sugarcane growing areas in the Mekong Delta province of Ben Tre have decreased by 3,600 hectares and Long An Province over 2,000 hectares, said a representative of Mekong Delta provinces.
Due to sugar price fluctuations, some farmers have switched to other crops such as cassava that have lower input costs, require less labor and producer higher profits at a quicker pace, said representatives.
Doan Xuan Hoa, vice head of the Department of Agricultural, Forestry and Aquatic Products, revealed that the sugar industry had failed to meet all the expected targets.
A recent report by the Ministry of Agriculture and Rural Development showed that the sugar cane growing areas of Vietnam fell from 302,000 hectares in 1999-2000 to 286,000 hectares in 2003-2004 and then to 270,000 hectares in 2008-2009. For 2009-2010, it's estimated that the amount of land devoted to sugar production had decreased by another 36,000 hectares, while total industrial sugar output of 904,000 has only been tons, 300,000 tons less than market demands.
Meanwhile, most sugar factories have signed contracts to purchase raw materials and have invested in seeds and fertilizer for farmers, but the most worrying problem is that if production remains low, everyone, both farmers and producers, will lose big.
Speaking at the meeting, Bui Ba Bong, Deputy Minister of Agriculture and Rural Development, said the government would provide farmers with 50% of the cost of sugarcane seeds and establish a center to audit the sugar content of sugarcane in order to ensure fair trade between farmers and sugar refineries.
The ministry aims to have Vietnam produce 300,000ha of sugar cane in 2010-11, with intensive cultivation to produce 11 million tons on 255,000ha.