Supermarkets in HCMC have announced that they will increase their opening hours by 2-4 hours a day to meet shopping demand and prevent congestion at counters ahead of the Tet.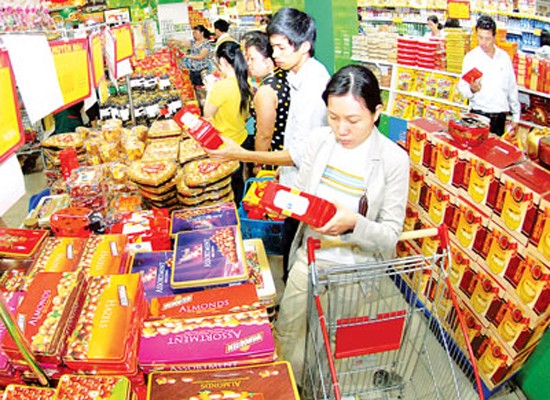 Customers buy confectionery products at Co.opMart Supermarket in Cong Quynh street, District 1, HCMC (Photo: SGGP)
Co.opMart and Co.opXtra supermarket chain will open from 7 a.m. - 11 p.m. from January 17-23, 6 a.m. - midnight on January 24-26 and 6 a.m. – noon on January 27 or the 30th day of the lunar year. 
They will be off on the first day of the lunar New Year and re-open on the following day. In other provinces and cities, the chain will adjust its opening hours suitable with practical conditions. 
Big C will extend its hours by 1-1.5 hours a day in the week before the Tet. Only three supermarkets of the chain will resume their operation on the second day of the New Year while the remaining ones will restart on the third day. 
Lotte Mart will open from 7 a.m. - 11 p.m. on January 24-26 and 7 a.m. – noon on the following day--the last day of the lunar year. 
The supermarkets said that the number of staff had been increased by 30 percent.  Counters and shopping carts had also supplemented to meet surging demand. 
In traditional markets, traders have said that they will extend their selling time until 6-7 p.m. instead of 5 p.m. as normal. 
The management boards of some markets have approved traders to sell until 9 p.m. after January 20. According to regulations, they all have to shut down before 12:30 p.m. on January 27 to tidy up markets to celebrate the Tet holidays. 
Besides increasing selling time in supermarkets and markets, businesses under the city's market stabilization program will organize mobile sales trips to suburban districts, industrial parks and export processing zones to serve local citizens and workers.