This is clearly the age of supermarkets as stats show a high increase in consumer spending in supermarkets while purchasing power has dropped considerably in traditional markets over the years.
A representative from a market research company pointed out that consumers increased spending on commodities in supermarkets from VND627,000 (US$30) in 2005 to VND1.5 million in 2011.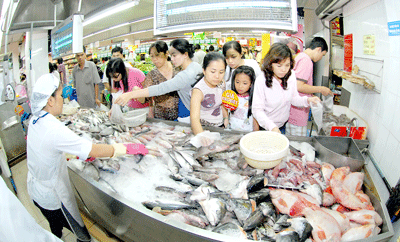 Shoppers buy food items at Co.op Mart in Cong Quynh Street in District 1 (Photo: SGGP)
Moreover, a survey of over 1,000 residents in Ho Chi Minh City showed that 80 per cent of people habitually shopped in supermarkets. These customer habits decide the business structure of supermarkets, which have a turnover of 56 per cent in foodstuff items alone.
Bui Hanh Thu, deputy head of Saigon Co.op said the turnover of foodstuff items accounts for 18 per cent of the whole supermarket stock. Each day, Saigon Co.op provides more than 1,000 different foodstuff items as well as supplies cooked food to satisfy the increasing demand of consumers.
Nguyen Nguyen Phuong, chief of the Trading Division of the Department of Industry and Trade, said supermarkets have three advantages over traditional markets. Firstly, quality is guaranteed as the products entering supermarkets must have manufacturing and expiry date. Secondly, various kinds of products are displayed on the same shelves to make it convenient for customers to select and compare. Thirdly, supermarkets and suppliers coordinate closely in offering good after-sales service.
To ensure stable supply of commodities at competitive prices, most supermarkets support farmers in cooperatives by investing in technology and seeds and guarantee a buy-back of their produce. Metro Cash and Carry initiated this method over 10 years ago and cooperated with the Ministry of Agriculture and Rural Development to publish standards of Good Agricultural Practices while also providing training of these practices to over 20,000 farmers and fishermen.
Investment in basic production not only helps supermarkets stabilise the source of commodities, prices, quality and quantity of products but also provides a base for supermarkets to negotiate with suppliers who demand increased prices.
Furthermore, supermarkets pay more attention to developing their   own brands like Co.op Mart, Big C and Metro that offer over 500 of their own brand products at cheaper rates, from 5 to 10 per cent. These products are manufactured in a closely monitored process, focused on high quality and minimum environmental damage.
The city has 140 supermarkets, 25 business centres, over 500 convenient stores and thousands of grocery stores as of December 31, 2011. Turnover of these stores and supermarkets accounts for 35 per cent of retail sales, two times in increase compared to 15 per cent in 2007.