Most supermarkets in Ho Chi Minh City are offering large promotional discounts on many essential goods, aimed at stimulating the domestic consumption demand.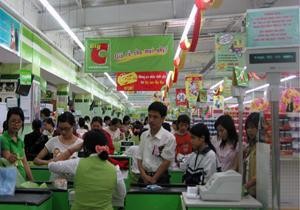 Customers at a Big C supermarket
Big C supermarket is offering a discount of 5-50 percent on 500 items like essential goods and food items from March 23 to April 3. 100 percent of all products on discount at the Big C are "Made in Vietnam" products.
Duong Thi Quynh Trang, foreign affairs director of Big C, said that until now prices of products are maintaining a stable prize due to a large reserve of products.
On March 24, Lotte Mart supermarket is also offering a discount of 5-40 percent on many essential products such as vegetable, fruits and cosmetics. Specifically, price of tomatoes has been reduced from VND7, 500 per kilogram to VND4, 900 per kilogram and the price of chicken has been reduced from VND83, 000 per kilogram to VND73, 600 per kilogram.
Co.op Mart's promotional program includes discount on hundreds of items such as clothes, electronic goods and packaged and fresh foods.