Vissan and Sagrifood have cut pork prices by around VND1,000 per kilogram with effect from today.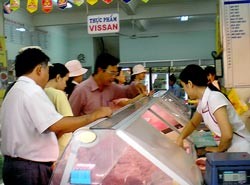 Consumers buy pork at a Vissan shop
The prices at supermarkets are now VND70,000, VND68,000, and VND75,000 per kilogram for thigh, shoulder lean, and lean meat respectively.
The companies' price cuts have taken the total reduction in the past 10 days to VND2,000.
The price of pork on the hoof has been declining since June and is now VND35,000 per kilogram, the Saigon Agricultural Corporation said.