The Government has given the green light to Taiwanese Formosa heavy industrial group to invest in a steel complex and deep water port in central Ha Tinh province.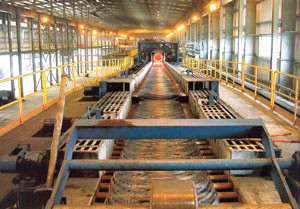 Taiwan's Formosa plans to build a steel plant in the Vung Ang economic zone this year
Approval was recently given by Deputy Prime Minister Hoang Trung Hai following a proposal from the Ha Tinh administration.
Under Formosa's plan, the steel complex in the Vung Ang economic zone will use local minerals to produce steel ingot, rolled steel and steel products with a total capacity of 15 million tons a year.
The Taiwanese group says it hopes to start construction of the steel plant in mid-2008 and have it operating by late 2011.
Formosa will also build a deep-water port – the Son Duong – designed to be able to host 200,000-ton ships.
With an investment of US$1.3 billion, the port will include 12 quays and dykes and be able to handle 55.55 million tons of cargo a year.