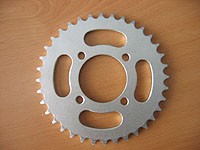 Motorcycle's sprocket.
Over 150 customers have taken part in the "New for Old" promotional program of the Tan Thuan Thai Company, ten days after the program launched.
Aiming to encourage consumers using made-in-Viet Nam products, the program is expected to apply to motorcycle's drum brake, in addition to ATG and Phoenix storage battery, motor's MT sprocket, chain and plate.
The company will buy back used drum brake from those who buy a pair of MT drum brake worth VND20,000 (installation fee excluded). The program will last to June 30, 2006.
For more information, please contact Microtech Center, 1B Luy Ban Bich Street, Tan Thoi Hoa Ward, Tan Phu District. Tel: 1900555525 – 0903 763 045.