Many people have believed that automobile prices will decline after Vietnam cut import tariff imposed on completely built unit (CBU) automobiles from the Associations of Southeast Asian Nations (ASEAN). However two years after the tariff was cut, the prices have not reduced but even increased in the market.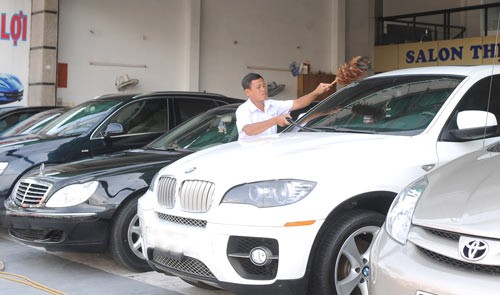 Private automobile ownership ratio is 20 cars per 1,000 Vietnamese (Photo: SGGP)
Car prices in Vietnam are most expensive in the world because of many types of taxes such as import tariff, special consumption tax, and value added tax together with a slew of fees.
According to a prestigious study organization, Vietnam is the fourth populous nation in Asia with the large number of young people. Its middle class has formed and quickly increased in number, creating a basis for the automobile market development.
However, private car ownership ratio in the country is under average level compared to other nations in the Southeast Asia. Every 1,000 residents own about 100-250 cars in Malaysia, Indonesia and Thailand while the ratio is only 20 cars per 1,000 people in Vietnam.
Many people have hoped that the price of CBU automobiles imported from ASEAN would reduce in 2014-2018, when the country conduct its commitments in the ASEAN Free Trade Area (AFTA) to lower the product's import tariff to 50 percent in 2014, 35 percent in 2015, 20 percent in 2016, 10 percent in 2017 and 0 percent by 2018.
 
In fact, the import tariff has been lessened from 60 percent in 2013 to 50 percent in 2014. With this cut, the price of a US$20,000 import car should have fallen by US$3,000.
It has moved conversely for the last few years. Some car lines now have the price higher than that last yearend at some shops. For instance, Toyota Yaris G has jumped from VND669 million to VND683 million, Yaris E from VND620 million to VND633 million from March 1.
Besides increasing import automobile prices, Toyota Vietnam has announced a hike of VND10-20 million per car to other locally assembled lines such as Corolla Altis, Vios and Inova.
The company explained that the price has been lifted up because of changes in tax, exchange rate and production cost policies.
The import automobile price is expected to raise another 12 percent for less than 24 seat types if a luxury tax calculation change proposal by the Ministry of Finance is approved.
The Ministry has sent the proposal to automobile importers to collect their opinions before forwarding it to the Government in June this year.