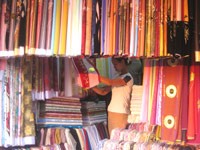 A kiosk of textile and garment products (Photo: TC)
Tariffs on textile and garment products imported from the EU, the US and Australia in 2006 will be the same as that of 2005, according to a decision by the Ministry of Finance.

Material and ready-made goods, such as silk-thread, fleece, blanket and mosquito-net will be subjected to the import duties of 5 to 20 percent.

In order to get tax preferences, businesses must possess certification of origin from these countries. The tariff will be applied to lots of imported goods registered at customs office from January 1st, 2006. In case the tax paid was higher than the imposed tariff schedules, the difference will be refunded.