Some delicious and unusual fruits from the Mekong Delta are hitting the market ahead of Tet (the lunar New Year) and being snapped up by eager buyers.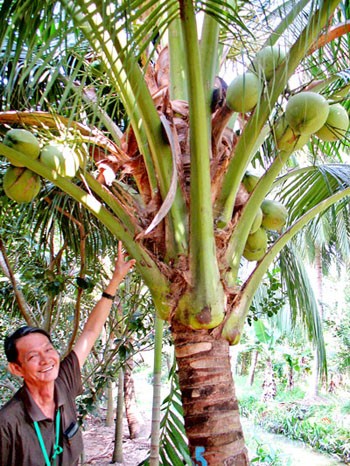 Vo Thanh Thuong in his aromatic coconut grove (Photo: SGGP)
Coconuts from the grove of the best-known coconut farmer in Vietnam, Vo Thanh Thuong of Giong Trom District, Ben Tre Province, fetch top prices in the market.
Of the 20 varieties of coconut from his 2.5 hectare garden, aromatic coconuts fetch the maximum prices.
Originally from Thailand, they have sweet water that has the aroma of pandanus (pandanus amaryllifolius) leaves and plenty of flesh.
Their leaves and roots also have the flavor of pandanus.
But in the coconut heartland of Ben Tre Province, few farmers are cultivating these trees since they do not bear many fruits. As a result, aromatic coconuts cost up to VND15,000 against VND1,000 for other varieties but are still in demand.
Mr Thuong said a Ho Chi Minh City-based business has signed a deal to buy all the coconuts from his grove.
Original grapefruits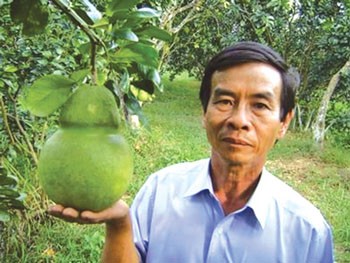 Vo Trung Thanh with a ho lo grapefruit (Photo: SGGP)
Vo Trung Thanh, farmer in Hau Giang Province, grows the highly popular ho lo (bottle-shaped) grapefruit.
The fruit is an improved strain of the nam roi grapefruit but fetches many times the price of the iconic nam roi, Mr Thanh told SGGP correspondents who were visiting his 3,000 square meters grapefruit orchard which is set to be harvested soon.
To earn VND50 million, one has to sell 5,600 nam roi fruits while just 350 ho lo fruits fetch that amount, he explained.
His orchard has 1,000 of the fruits ready to be plucked for selling during the New Year.
Many prospective buyers have come visiting recently but he has signed a deal to sell all his grapefruits to a HCMC business, he said.
Mr Thanh has completed procedures to register the "Buoi ho lo Trung Thanh" (Trung Thanh ho lo grapefruit) brand name and exclusive rights to the bottle shape of the fruit.