The Government subsidy program aims to encourage local enterprises to boost production of high-quality Vietnamese goods in an effort to replace high priced imported goods. However, inadequacies in affording tax incentives have hindered production of domestically made goods.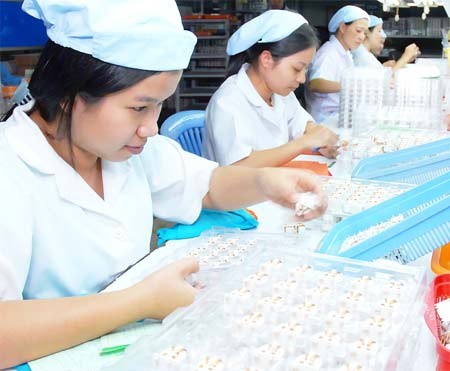 Workers making electronic parts at Binh Hoa Electronic Company in Ho Chi Minh City (Photo: SGGP)
During the past, local companies have had to import commodities that are actually 'made in Vietnam' by export companies.   
 
Explaining this paradox, Vu Van Hoa, head of the Ho Chi Minh City Export Processing and Industrial Zone Management Board, said Vietnamese enterprises do not want to sell their products in the local market because they cannot enjoy preferential value added tax (VAT) rates. While they can enjoy a zero percent VAT rate if they export their products.
 
Because of this, Vietnamese people have had to pay higher prices for imported Vietnamese-made goods, he added.
 
Also because of tax incentives given to enterprises operating in export processing zones, enterprises have failed to buy domestic raw materials as much as they actually require to save costs and to reduce transportation costs and time as well.
 
Nguyen Quoc Anh, head of Gunze Vietnam Company's production department, said as per Government regulations, companies in export processing zones pay no VAT rate. However, if they buy materials from local companies, both buyer and seller have to make custom declarations.
 
Mr. Anh said local companies usually do not like to issue zero-rate VAT invoices and make custom declarations, because procedures for getting tax refunds are very complicated.
 
Local companies usually deny small orders and for big orders they add 10 percent VAT on material prices and ignore to get tax refunds when they issue zero-rate VAT invoices.
 
With a 10 percent rise in material prices, enterprises in export processing zones cannot produce goods at competitive prices. Therefore, they buy only US$800 million worth of domestic materials annually. This figure is too small compared to local companies' supply capacity.
 
Preferential import duties "killing" domestic production
 
At present, imported Acer and HP computers are much cheaper than the ones produced in the country, because imported ones are exempt from import duty.
 
Nguyen Huynh Thy Khoa, director of Long Vu Trading and Service Company Ltd., said that according to the route map set by the ASEAN Free Trade Agreement (AFTA), Vietnam has to zero out tariffs on computers imported from member countries of the Association of Southeast Asian Nations (ASEAN).
 
Computer parts, which are used to assemble computers in the country, are subject to 2 percent import tax.
 
Vietnamese companies have been unable to make all computer parts to assemble a complete computer in the country, so they have had to import some parts at 2 percent import rate, making domestically assembled computers more expensive than imported ones.
 
Local computer makers like FPT Elead, VTB, CMS and Mekong Xanh have also faced great pressure as most global computer makers have factories in China, from where computers imported into Vietnam are exempt from import duty.
 
Not only computers but also other electronic products made domestically have come under pressure due to preferential import tariffs.
 
Because of a difference between import tariffs of complete built units and parts, some foreign investors have switched their business from production to import and distribution.
 
In order to boost production of domestic goods, the Government should address inadequacies in tax policies and create favorable conditions for Vietnamese enterprises to buy domestic materials for making goods to reduce production costs.