Public concerns have been raised after series of articles of tax evasion by many businesses appeared in Sai Gon Giai Phong. The Government has ordered the Ministry of Finance and the Ho Chi MInh City People's Committee to investigate. The Tax Agency conducted August 21 inspections of VAT invoices at companies and electronic shops.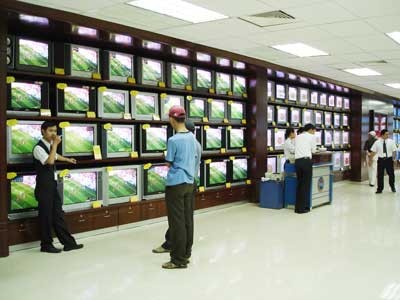 Customers watch television at Nguyen Kim electronic shop in District 1 which avoid tax payment by not issuing tax invoices (Photo: U. Phuong)
Even as the inspectors, including those from market management and tax departments, were checking the quantity of goods at the Nguyen Kim electronics shop, salespeople still issued receipts without VAT invoices to customers.
The situation also occurred at Phong Vu Computer shop in District 1, HCMC. It sold an item without adding VAT or issuing VAT invoices, inspectors made a report of the act immediately.
Nevertheless, the action happened again when sales clerks thought the inspectors were busy checking goods. It was only when a reporter asked a customer for his receipt to photograph it, that employees of the shop quickly collected back the receipt and asked customers to return to the check-out counter to receive VAT invoices.
Following the articles on tax evasion, district tax authorities penalized all tax evaders; for instance, Phong Vu Joint-Stock Company  and Hoan Long Computer shop in District 1, HCMC, were both fined VND10 million. Din Ky Restaurant in Nguyen Trai Street in District 1 must pay VND17 million.
After Sai Gon Giai Phong reported tax evasion by many companies, some readers provided the newspaper with receipt son which tax authorities could punish evaders. Yet with just a few receipts, tax inspectors could impose only small fines.
The Department of Taxation has therefore called for the public to insist on VAT invoices when buying goods.

Related articles:
City leader tells tax agency to check evasion
HCMC companies evade tax with impunity