Nearly 3,000 cars were imported into Viet Nam in April, a 50% drop off compared to March, according to the General Department of Customs.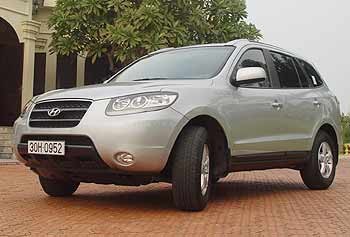 Hyundai's Santa Fe has recently become very hot in Viet Nam (Photo: VNExpress)
The figure doesn't include commercial cars and buses, only cars with 15 seats and fewer such as sedans, SUVs and MPVs. Importers brought 1,500 cars into the country in the first half of April and around 1,400 in the second half.

The General Department of Customs said the volume of imported cars has decreased because of the new tax rates, 70%, which took effect on April 2, and 83%, on April 22.

"The number of imported cars will continue to fall due to the increase of tax," said a department official.

The director of a big import company in HCM City says car traders imported a large volume of cars in late March to avoid the higher tax so they did not sign new contracts in April. However, the number of imported cars last month was equal to that of January and February because many contracts signed in March were carried out in April.

The Ministry of Finance's moves (increasing import tax rates on cars twice within two months) has created immeasurable changes. The first move (raising the tax from 60% to 70% on March 11) caused a record high number of imported cars, 6,000 units, which is equivalent to half of the whole 2007.

Tax changes have also created chaos in the market for imported cars by increasing the prices of all models by around 14.4%. For example, a Honda Accord was priced at US$60,000 in February but it is US$69,000 at present.