Two of the biggest taxi companies in Ho Chi Minh City, Mai Linh and Vinasun, have announced a hike in fares by VND500-1,000 on every kilometer, on account of the recent increase in the price of petrol.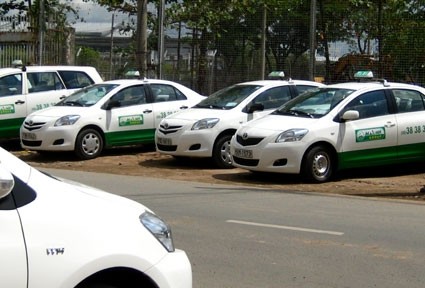 Mai Linh Company has increased taxi fares by VND800-1,000 a kilometer from August 16 (Photo: laodong)
Mai Linh Taxi Company will hike fares by VND800-1,000 a kilometer from today, August 16.
Nguyen Do Phuong, a representative of the company, said the company is forced to hike fares because petrol price has moved up three times since July 20, now touching VND2,400 a liter, an increase of 11.6 percent.
To accommodate fare hike each time, the company has to reconfigure the taxi meters, which costs about VND3 billion (US$143,000) for 12,000 cabs.
Mai Linh is now planning to incorporate built-in costs on fixed fares to prevent losses in future and will only consider an adjustment if fuel prices surge by 8-10 percent.
Ta Long Hy, chairman of the Taxi Association in HCMC and deputy director general of Vinasun, said that the company is going to raise fares by VND500 a kilometer.
After petrol price was hiked by VND400 and VND900 on July 20 and August 1, most taxi companies in the City did not adjust their fares. But now with a third hike of VND1,100 on August 13, they have little choice.
The specific hike rate will be decided by each company and will take a few days to register with authorized organizations.
Vinasun will spend VND260,000 to reconfigure one meter per cab. On their fleet of 4,500, the company will spend VND1 billion ($48,000)
Luong Hoang Trung, deputy chairman of the HCMC Cargo Transport Association, said that in two previous fuel hikes, businesses did not increase transport fees as the hike rate was less than five percent each time.
Fuel price has now rocketed by more than five percent, forcing them to adjust fares to make up for extra fuel costs. The recent fuel hike is expected to be more than 4-5 percent, effective from August 15.