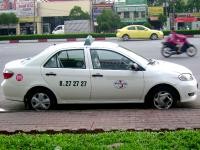 A Vinasun taxi in Ho Chi Minh City
With the third increase in gasoline prices since July 1, Vinasun Taxi and Mai Linh Taxi announced they increased their fares by VND500 per kilometer.
Vinasun Taxi director Ta Long Hy, also chairman of the Ho Chi Minh City Taxi Association, said Sep. 3 that Vinasun adjusted its fares from VND10,000 per kilometer to VND10,500 for four-seater cabs and from VND10,500 to VND11,000 for-seven seater cabs the same day.
He added Vinasun has subsidized 2,400 taxis VND50 million per day in HCM City due to current gasoline prices, which have increased 15 percent since July 1.
On the same day, Airport Taxi also adjusted its taxi fares, increasing them by VND500 per kilometer with VND11,000 per kilometer for four and seven-seater cabs.