He was speaking at an urgent meeting with HCMC Taxi Association, Vinasun and relevant agencies after some traditional taxi firms including Vinasun stuck the protest banners in Hanoi and HCMC.

According to Mr. Lam, Uber and Grab are two new types of transport under pilot operation phase, so it is not good for Vinasun to stick the protest banners, negatively affecting HCMC's business environment.
At the meeting, Vinasun's deputy director general Ta Long Hy promised to learn from experience and implement the requirement right on September 9 or the following day at the latest.
A representative of the HCMC Department of Industry and Trade said that the move showed signs of breaking the Competition Law. The ministry would report the issue to the Ministry of Industry and Trade to investigate and handle.
The Transport Department said that the city People's Committee has sent a document proposing Uber and Grab software providers to stop connecting with new cabs. The agency will supply the list of less than nine seater vehicles granted with contract car barges for the HCMC Police Department to inspect.
Since early this year, the Transport Department's inspectorates have issued the total penalty of VND600 million (US$26,000) to handle 159 cases in which Uber and Grab drivers did not register business, had no transport business license and transport contracts, parked their cars in wrong places and broke other regulations.
On the same day, deputy head of the HCMC Taxation Department Nguyen Nam Binh, said that Uber has not agreed the tax arrears collection decision by the agency and wanted to work with the Ministry of Finance about the issue.
If Uber does not voluntarily pay taxes ten days after the decision was issued, the agency will transfer the case to debt management division to handle, he added.
However, it is not simple to conduct the coercive measure of blocking Uber account as it has been opened in the Netherlands. So the Taxation Department might propose the city People's Committee to ban Uber from operating in HCMC.
HCMC now has over 11,000 traditional taxi cabs of Vinasun, Mai Linh, Phuong Trang and Vinataxi companies. According to the city's transport development plan by 2020, the number of taxi cabs in HCMC will be 13,000.
Like other countries in the world, traditional taxi firms in Vietnam now have to abide by many regulations. For instance, their cabs must be painted the same color, have boards on their tops, install meters and have a switchboard to call taxi cabs.
The cabs must be inspected very six months and drivers must be trained methodically. The companies must inform authorized agencies every time they increase or reduce taxi fare and pay related costs hitting hundreds of millions of dong every time of changing and taking time to adjust meters.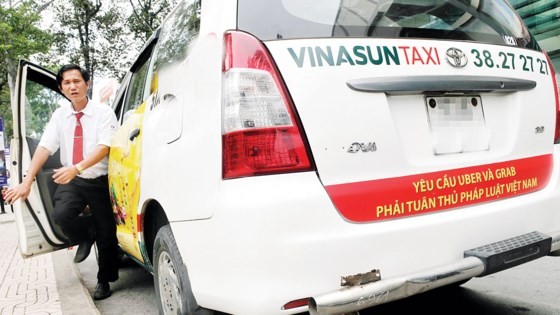 Traditional taxi firms stick Uber and Grab protest banners on their cabs for the last few days in HCMC and Hanoi (Photo: SGGP)
Amid that context, Uber and Grab have been launched applying technology to connect drivers and customers skipping tens of shares of work which a traditional taxi firm must do. Without meters, Grab and Uber can flexibly change their fare according to market demand. Thanks to these advantages, they have strongly developed.
The HCMC Transport Department reported that HCMC had only 200-300 contract cars by the end of 2015. It increased to 2,437 cabs last year when the Ministry of Transport permitted pilot Grab operation. The number has topped 23,000 now.
Facing fierce competition, traditional taxi firms have reacted by sticking Uber and Grab protest banners recent days.
In addition, some have started applying technology to improve their service and compete with Uber and Grab. For instance, they have invested in a cab calling system which customers can book cars online and know the fare in advance.
Industry 4.0 is an inevitable trend in the world without exception for any country. The best way for businesses to exist and develop is to adapt to technology development and renew to meet customers' demand instead of protesting against their rivals.