A technology and equipment market themed "Techmart Tay Nguyen 2008" to showcase new products, initiatives and solutions will be organized in Buon Me Thuot, capital city of Dak Lak Province, in the Central Highlands of Viet Nam by the end of April.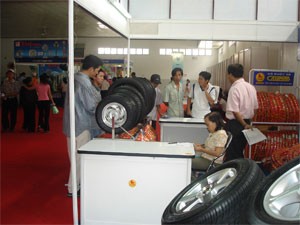 At a pavilion of a rubber company in a Techmart in Ho Chi Minh City ( PHoto: Uyen Phuong )

"The market is considered an important event in the field of science and technology in the region", organizers told a conference held at the National Information Center of the Ministry of Science and Technology on April 05.
Techmart will promote scientific and technological research activities and will boost trade and production activities in order to develop the regional technology market, paving the way for further industrialization and modernization of cities and provinces in the Central Highlands in the future.
Since Viet Nam is integrated into the world economy after its admission to the World Trade Organization, Techmart will also bridge scientific and technological studies with trade and production activities to create cooperation opportunities, improve the technological capabilities of local enterprises in the region.
There will be around 150 pavilions displaying low-cost domestic versions of technologies and equipment that are often imported. This is an effective way to stimulate the competitiveness of regional enterprises, according to organizers.
Techmart Tay Nguyen 2008 is jointly organized by the Ministry of Science and Technology, the Dac Lac Province People's Committee and the HCMC People's Committee. It will be held from April 24-27 in Buon Me Thuot City.
For further information, please visit http://techmartvietnam.com.vn