Thousands of people took a day off from work December 1 to buy train tickets through SMS messaging for Tet in February 2010 but a foul-up by the authorities meant few managed to do so.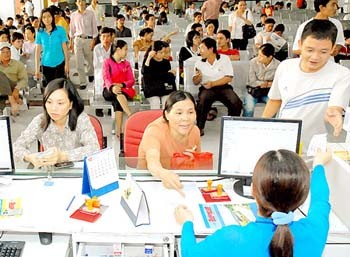 Customers buy tickets to travel during Tet at Saigon Railway Station in HCMC on December 1. The station has introduced an SMS service which is having teething troubles (Photo: SGGP)
Though Saigon Railway Station began selling the tickets by SMS only at 8:30am, hundreds had arrived at the station by 5am all set to send the messages.
 
By 9am, the station was packed with people surrounding notice boards to read the directions and send messages. The occasional happy scream could be heard from those getting replies.
Pham Thi Thanh Minh, a garment worker from Hoc Mon District, said she took a day off work to leave for the station by 6am.
Since 8:30am, she said she had sent 31 messages and got just five replies, each saying "your message is handled by the system. Please wait for the reply or call 1900561258 for more information."
Nguyen Viet Dung, a worker from District 12, said angrily he had left for the station at 2am and sent 15 messages without getting a reply.
"When I came to the station gate, some brokers asked me for VND100,000 to 200,000 on top of ticket prices," he said.
Some people who got confirmation through SMS said despite waiting five hours they failed to buy the tickets.
SMS service provider goofs up
The SMS service provider, Social Research and Communication Consultancy (SORECOM), was found to have given wrong instructions.
For example, it said "bnll" or "anll" while it ought to have been "bnlt" or "bnlt."
As a result, people simply received a response saying "wrong syntax."
The director of Saigon Railway Station, Nguyen Thi Thanh Phuong, said since this is the first time the station is selling tickets though SMS, the system is handling messages slowly and asked for customers' understanding.
The station said that evening that just 23,946 out of 47,604 messages it received were correct and that 1,000 of them had been issued tickets already.