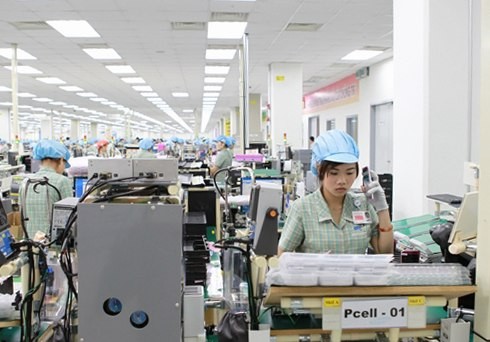 At a factory to produce telephone for export (Photo: Baohaiquan)
According to the Ministry of Industry and Trade, with $11 billion in the first five months of the year the telephone export overtakes garment and textiles in terms of export value. 
 
Telephone export accounts for 16 percent of the country's total export revenue with an increase of 113.64 in comparison with the same period last year.

Apart from this, telephone export in May continued to increase by 39.63 percent, higher than export in April which earned $2.16 billion.
 
Telephone  and telephone accessories are in the Customs Department's list of export since 2010.
This industry branch joins the billion US dollar club, which has yearly export revenues over US$1 billion.
 In the first year of listing, it earned over $2.3 billion, ranking eleventh in the list of 38 key export items. In the second year, it leaped to the second place with total revenue of  over $12.7 billion.