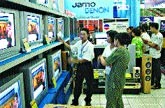 TV market in HCMC
There are only two months left before fierce football matches of World Cup (WC) 2006 will officially start in Germany. The television (TV) market in Viet Nam (VN) has begun to warm up for the most exciting sporting event worldwide.
Samsung Vina starts the race with the launch of various new products at the beginning of April. Three main products are LCD Bordeaux TV series R7, SlimFit Z40, Plasma Q7. A range of LCD TV accompanied by strong promotional programs attractive to the consumers will be launched by Vietronic Tan Binh
Beside normal flat screen TV, the more LCD Plasma TVs are coming into the market. In 2005, LCD TVs accounted for 3% of the Vietnamese TV market. That will increase to 15% till 2010, forecasted by Market research Companies. The price of LCD TVs is much lower now, Sony reduces its 32" LCD TV from VND 69,9 million to VND 34,9 million 50" LCD TV Samsung also reduces its old LCD TV model, from VND 79,9 million to VND 49,9 million for a 32" LCD. Toshiba has also launched many LCD TV products with 15% discount.
The consumers may prefer LCD TV due to its excellent features such as less electric consumption, sharper and much clearer pictures, HDMI ports connecting with other digital equipment such as computer, digital camera.