Newly registered and additional foreign direct investment capital touched US$19.23 billion in first ten months of the year, up 65.5 percent year-on-year, according to the Foreign Investment Agency under the Ministry of Planning and Investment.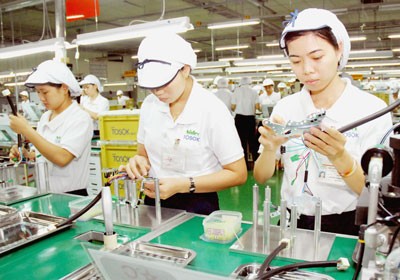 Workers at Japanese company - Nidec Tosok at Tan Thuan Processing Zone. (Photo: SGGP)
By October 20, around 1,050 new projects were licensed across the country with registered investment capital of $13.07 billion, an increase of 79 percent compared to the same period last year.
393 existing projects also asked for an additional investment capital of $6.15 billion, up 42.5 percent year-on-year.
FDI projects have so far disbursed $9.58 billion out of $11 billion which is expected to be disbursed this year.
Among 52 nations and territories, Japan continued to be the biggest investor with $4.84 billion, accounting for 25.2 percent of total FDI capital; South Korea took second rank with $4.01 billion; and Singapore ranked third with $3.98 billion.