Ten Vietnamese businesses have been listed in the top 500 retailers in Asia-Pacific as recently announced by Singaporean magazine Retail Asia.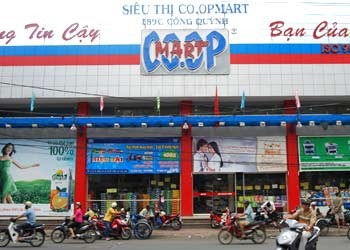 The first supermarket of the Saigon Co.op was opened on Cong Quynh Street District 1 in 1996. The leading supermarket chain now has 44 supermarkets nationwide.
Leading supermarket chain Saigon Co.op, headquartered in HCM City , bagged the gold prize and the Saigon Jewelry Company (SJC) won the silver.
Other honoured enterprises included the Phu Nhuan Jewelry Company (PNJ), Nguyen Kim Electronics Centre, Mobile World, Big C supermarket chain, Parkson supermarket chain, Best Carings electronic supermarket chain, G7 Mart chain and Diamond Plaza Trade Centre.
The annual ranking is based on business results of companies in 14 countries and territories, including Australia , China , India , Hong Kong , Indonesia , Japan , New Zealand , the Philippines , Singapore , Malaysia , the Republic of Korea , Taiwan , Thailand and Vietnam .
The main criteria for the list are retail revenue, average revenue growth rate and system development.
The award ceremony will he held in Beijing , China , on November 9.