With Tet shoppers out in full force, Ho Chi Minh City supermarkets are operating at full stretch.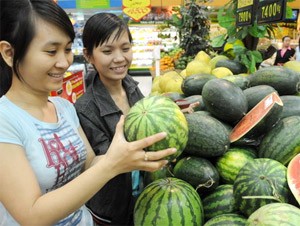 At Big C supermarket on Hoang Van Thu Street in Ho Chi Minh City (Photo: T. Tre)
Purchases of cooking oil, processed and frozen foods, beverages, and confectionery have soared as usual.
 
Supermarkets said they would increase stocks of fresh fruit, food, and meat on days just before Tet.
 
Bui Duy Duc, general director of Vissan Corporation, said his company slaughters 2,500 pigs a day, 700 more than on normal days, adding that pig prices remain unchanged.
 
Prices remain stable at supermarkets while they have risen unexpectedly at retail shops and markets.
 
At Tan Dinh market in District 3, shrimp, squid, and fish prices have increased by VND5,000-8,000 for a kilogram, pork by VND3,000, and chicken by VND10,000.
 
Beer is becoming costlier by the day, with a case of Heineken going up a further VND5,000-10,000 and 333 beer by VND2,000 on January 19. But they remain unchanged at supermarkets.
 
Supermarkets are also remaining open longer and having more checkouts to make it more convenient for shoppers.
 
They plan to remain open until noon on New Year's Eve and stock sufficient fresh foods.
 
Fashion shops and gift shops too have been crowded and are remaining open longer.